How to use the College GPA Calculator?
It's very simple to use the tool. Just follow the steps below to get started.
1. Enter course name (Optional)
Firstly, enter the course name (i.e. Maths, Physics, Chemistry, etc...) in the first column. It's an optional step. But don't skip it. We recommend you enter the course name from the beginning. Because it will help you to differentiate the exam grades and credit hours.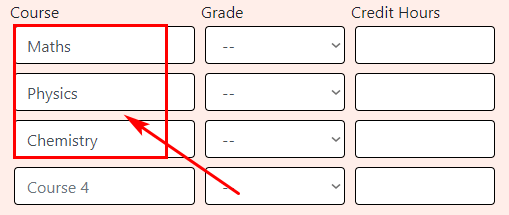 2. Choose Letter Grade
Next step is to select the letter grades from A+ to NP. It's a second column where you can find these selection options.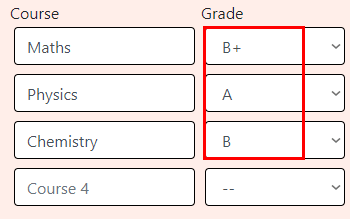 3. Enter Credit Hours
It is the most important step. In this step, you have to enter the credit hours that you have earned from each course.
Let's take an example to understand it.
If you earned B+ for 4 credit hour course, then you need to enter 4 in the third column box.
If you are calculating GPA for less than 4 courses. Then it's Ok! But if you want to add more courses then you can use the "+ Add Course" button to add more rows. Also, you can add as many courses as you want. There is no limit on that.
Even more, there is an optional field to enter your previous semester's cumulative GPA and Credits. You can enter these values if you want to find an average of an overall (Previous + Current) semester GPA.

4. Calculate
Lastly, press the "Calculate" button to start the calculation process. Also, the "Reset" button will refresh the calculator.

5. Get Results
Finally, you will get the grade point average, total credit hours, and full GPA calculation below.